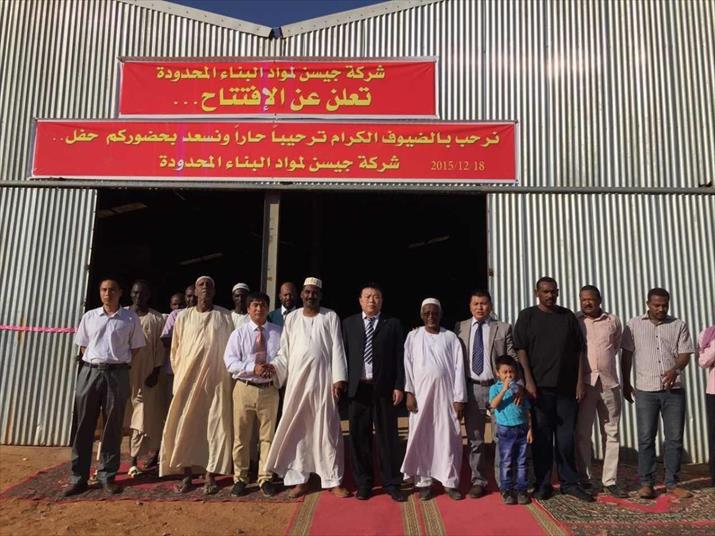 Wu Yongke still remembers the excitement local people showed when he announced the opening of a plant, his company's first overseas facility in North Africa's Sudan, one year ago.
Wu is the CEO of Shijiazhuang Jason Building Materials Import and Export Trading Co. Ltd. Founded in 1992, his company is a major plasterboard manufacturer located in north China's Hebei Province, a world away from Africa. But with the Belt and Road Initiative picking up steam, his company decided to jump on the bandwagon and test international waters with the launch of a Sudan-based branch in December 2015.
But of all the countries out there, why choose Sudan? After extensive market research, the company found that gypsum boards imported from China were used almost everywhere in the country, whether it's public buildings, shops or markets.
This is how Sudan Jason Building was born in 2015 in Khartoum, the Sudanese capital. But opening a first overseas factory was not a walk in the park, remembers Wu. "The procedures were quite cumbersome and we had to call on a specialized lawyer to help us deal with the formalities and discuss details with local authorities," he said.
On the bright side, the company benefits from a tax exemption on imported machinery, and enjoys a lower tariff rate for the raw materials it brings from China.
According to Wu, its Khartoum plasterboard plant is the only one of its kind in Sudan. Today, it produces almost 3 million square meters of plasterboard per year, supplying up to two thirds of the local demand, and, to a lesser extent, the regional market.
Half business, half friendship
With only 15 Chinese staff, Sudan Jason Building now employs 100 locals, with 15 of them being executives at different levels. "Job creation was an essential condition for the authorities to approve the project," said Wu. At the start, Chinese technicians trained some of their Sudanese colleagues on how to operate the machines, with the aim of having them take over and train other Sudanese operators.
Lutfi Sharief, 46, Executive Director at Sudan Jason Building, has been working there since its foundation. "The plant creates job opportunities for many Sudanese, enabling them to earn a decent wage and provide for their families. For many, the plant is a symbol of Sino-Sudanese friendship," he told ChinAfrica.
Monthly average salaries range from $150 for workers to $450 for executives, in addition to holidays and social benefits.
"We have installed state-of-the-art equipment to help protect the environment," said Sharief. "The materials we use - mostly plaster and paper - do not contain any toxic elements. The production process is free from any pollution, dust, or waste water," Wu said.
Big plans for the future
Emboldened by this first success, the company aims high for the future. Li Jitao, General Manager of Sudan Jason Building, explains that the company will increase its production in the coming year. The plant area will follow suit, going from 6,500 square meters to 33,000 square meters.
Once the new plant is in operation, the company will be able to supply not only the entire Sudanese market, but also its neighboring countries. "In seven or eight months, we will double our production and recruit about 200 more workers. Li said. In the medium term, the company plans to open other plants in South Sudan, Chad and Ethiopia.
According to a survey by management consulting firm McKinsey & Company, China's investment and business activities in Africa translate into three major economic spin-offs: job creation and technical training, knowledge and technology transfer, and infrastructure financing and development.
"Among the workforce employed by the 1,000 Chinese companies surveyed, 89 percent are local employees. Chinese companies have created more than 300,000 jobs on the continent," said Kartik Jayaram, a senior partner in McKinsey's Nairobi office, at a press conference on Sino-African economy in Beijing. He added that the total number of Chinese enterprises in Africa now exceeds 10,000.
(This article was written in collaboration with the International MBA program of Beijing Normal University)