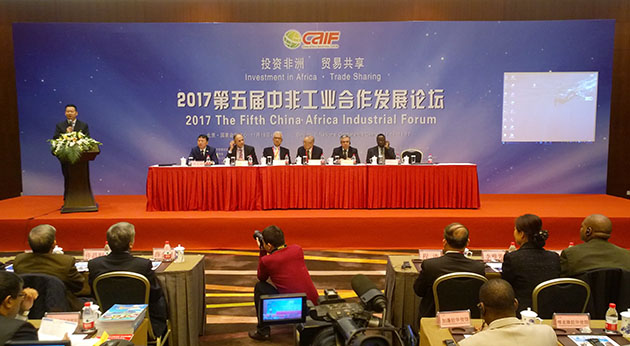 The Fifth CAIF is held in Beijing National Convention Center on November 16. Representatives from China and nearly 40 African countries, including diplomatic officials and businesspeople, attend the meeting (Photo by Wang Xiang)
Supporting African countries' industrialization and boosting Sino-African production capacity cooperation will be the key tasks in Sino-African cooperation in the coming five years, according to Cheng Zhigang, Secretary General of China Africa Industrial Forum (CAIF). He noted that China-Africa cooperation in infrastructure construction has been witnessing rapid development in the form of industrial parks.
"The African market will provide huge business opportunities for investors in the coming years, due to improving infrastructure, industrial development and demographic dividend," he noted at the Fifth CAIF held in Beijing National Convention Center on November 16.
Demographic dividend is one of the unique development advantages of African countries. According to a report recently issued by the United Nations, Africa's population has reached 1.2 billion, and is still growing. In southeast Africa, young people between 10-24 years old account for 33 percent of the population. In 2025, youth on the continent will represent a quarter of the world youth population.
"These young people will provide energetic impetus for industrialization in African countries," Cheng told ChinAfrica.
Industrialization is the first among the 10 major China-Africa cooperation plans put forward by Chinese President Xi Jinping at the Johannesburg Summit of the Forum on China-Africa Cooperation (FOCAC) in December 2015, as well as a key sector and development direction of China-Africa cooperation. Experts believe that production capacity cooperation between China and African countries is an effective way to improve industrialization in Africa.
"CAIF will work hard to support production capacity cooperation between China and Africa," Cheng noted.
Incomplete statistics show that there are more than 10,000 Chinese enterprises registered in Africa.
According to Cheng, cooperation between Chinese enterprises and their African counterparts did not always result in success stories and joys. There were also difficulties and challenges, and even failures. "These challenges include insufficient knowledge about African countries' conditions and inadequate risk evaluations," he said.
Algerian Ambassador to China Ahcène Boukhelfa is optimistic about the future development of China-Algeria cooperation.
"Algeria is looking forward to working with China on many projects. There are also many projects that are still in progress," he told ChinAfrica. "China is the biggest business partner of Algeria. China can bring a lot to Algeria and vice versa."
Business Diplomacy Counselor Masresha Endalew of the Ethiopian Embassy in China stressed the importance of industrialization in China-Ethiopia cooperation.
"Definitely, industrialization is very important for Ethiopia. China is now the world's second largest economy, but we are quite weak in this regard," he said in an interview with ChinAfrica.
According to him, Ethiopia is transitioning from an agricultural to an industrializing economy. "We are expecting a lot from the forum," he said. "We definitely expect more Chinese private and state-owned enterprises to invest in Ethiopia."
The Fifth CAIF was participated by representatives from China and nearly 40 African countries, including diplomatic officials and businesspeople. Representatives from more than 20 African countries also introduced their potential cooperation projects at the forum.